Arogosy Cruises 2021 Wrapped
The year has officially come to a close and it's only natural to want to look back and reflect on everything that happened throughout the year. With that being said, this blog post was born! So, let's warm up with some fun facts for 2021:
SO MANY people cruised with us this year!
Most of who rode with us chose the Harbor Cruise, making that tour *drumroll please* the crowd favorite.
We had a total of 1,017 Harbor Tours leave Pier 55 and 158 Locks Cruise Tours go through Ballard Locks! 
Our wonderful tour guides provided us with 61,020 minutes of narration on our Harbor Cruise and 18,960 minutes on our Locks Cruise.
The above numbers show that our comeback was long awaited and with the help of the Seattle community, Argosy Cruises was welcomed back to operate by the end of May! We ecstatically came back to the water, doing what we do best, cruising. Our return couldn't have been more perfect! First highlight of the year was being able to give a warm welcome back and hello to our new and returning crew! A well-deserved shout to the amazing people who keep our boats up and running both on and off the pier and tend to the many passengers running through our operations. What's a boat tour without the narrator? Well, dead silence. How would you get on the boat without checking in or being directed? Well, you wouldn't. Cheers to our Shoreside and Vessel crew!

Sailing on the water, and now….SALEing online! This year has brought us to achieving our milestone of launching Argosy's first e-commerce shop. The Argosy Cruises Store holds a wide variety of items catering to the different needs of a browsing customer. Anything from cozy and comfy apparel to beautifully crafted art made by Native American artists, we hold a unique selection worth checking out.
Since we are already on the topic of gift-giving, Argosy was more than happy to introduce our annual Christmas Ship™ Festival back for the 2021 season. After a one-year hiatus, the 70 plus year tradition was able to come back in time to spread holiday cheer, not only on the water but to the many Puget Sound communities. Our on-shore events proved to be a hit and we couldn't have done it without Seattle Parks & Recreation! Selling out nearly every trip, Christmas Ship™ went out with a BANG.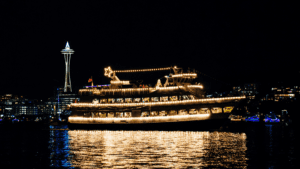 Although some amazing highlights, we had to give a bittersweet goodbye to Tillicum Excursion. The beautiful land and saltwater shoreline gave for a perfect place to experience the outdoors. It was a difficult decision caused by challenges brought to us by the pandemic, but the many memories carried by Argosy and the community is engraved in our hearts.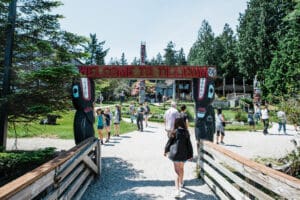 SO, we did it. Another year in the books and it was certainly one to remember. I think it's safe to say that this year was nothing short of the unpredictable, but did we face it head on? We did! Although some of 2021 at Argosy was spent with our fleet docked, we can confidently say this year was not wasted.