It's the month of love and here we are, providing everyone with a useful and not so tacky gift guide for the Valentine's Day festivities this weekend. Skip out on the grocery store gifts and step it up a notch! Not too far down the road and up a couple flights of stairs from Argosy is Pike Place Market, an area in Seattle full of fun little shops and boutiques. With restaurants, cafes, and vendors left and right, it all can seem a little daunting. SO, we saved you guys some time and took a trip down there to tell you where to go and what to get! Too help just a bit more, we've separated the guide into categories of interests. This way you can get something just as specific and similar to the person you love. Let's scroll!
1. Beauty/Health Nut - Moon Valley Organics
For the person who appreciates organic products and loves trying new skincare, look no further. Moon Valley Organics ranges from lotion, soap, and chapstick to their unique pieces like lotion or shampoo bars. The ingredients used in all of their items are all home grown in Deming, Washington by the founders themselves. What else says romance like sweet scents and sustainability?! We love it!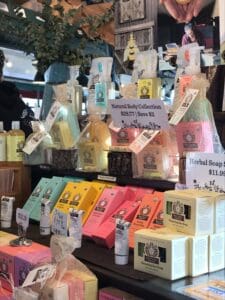 2. Art Admirer - The Glass Pumpkin & Old Seattle Paperworks
Someone who loves home decor and creating a space of their own is sure to love any gift from these two places.
Glass art can't get any better than The Glass Pumpkin. Gina creates amazing pieces with each being slightly different than the other. Aside from her store name and creating actual glass pumpkins, her range of products go from ornaments to houseware to sculptures. Want to show your gal pals how much you love them by buying them matching glass hearts? Do so here!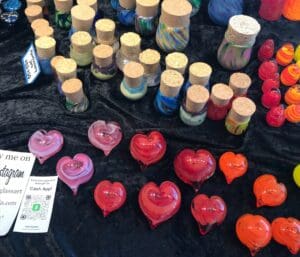 Now if your special someone loves vintage pieces, then this is definitely the right place. Old Seattle Paperwork's is a one stop shop for all wall art that includes historic maps, old advertising art, magazines, and photos. You can find a plethora of cool items for one's coffee table or to frame and place above a couch!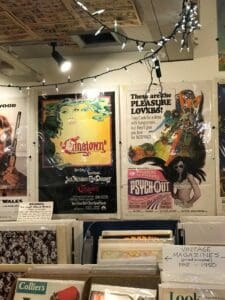 3. Plant Lover - Jungle Bean & Yang Farm
If you're spending this Valentine's Day with a plant mom or dad, then we got you.
Near the parking garage just below the main road of Pike Place is a cute little shop called Jungle Bean. Their mission is to change the low standard of most online plant shops by providing plant lovers with happy, healthy plants. This is done by inspecting each plant of pests, root rot, and growth! Find some leaves, pick out a pot, and if it couldn't get any better, Jungle Bean has the cutest shop dog.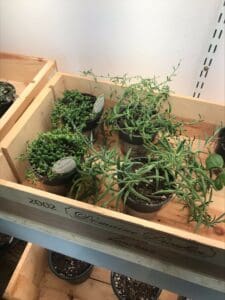 Is your partner less about the leaves and more about petals, because we have a great option for you! Thankfully Pike Place is known for their various flower stands, but Yang Farm cannot be outdone! Other than the usual, beautiful flowers they provide, I was able to catch a glimpse of their specialty dried flower bouquets and those are quite a special treat. If you're looking to give something more long lasting, grabbing one bunch is the right move.
4. Avid Reader - Lamplight Books
Trying to find the right words to say, but you just can't think of them? Well, no need! Lamplight Books has plenty of words to give without you needing to stress. Browse their curated selection of novels from topics like poetry, cooking, science fiction etc. You'll be sure to find the novel they've been dying to read or a children's book to give as a Valentine's gift for the little ones. Specializing in out-of-print books, a gift from here is 100% one of a kind.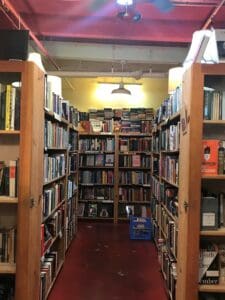 5. The Jokester - Golden Age Collectables
A section for your goofball - a gift that won't come across as too sappy.
Skip over the romantic chocolates and go for the joke mints & gum. At Golden Age Collectables, find a funny board game for two or your partner's favorite movie's script. From comic books to all things pop culture, you'll be sure to find a light hearted gift for the one who makes love feel like a movie.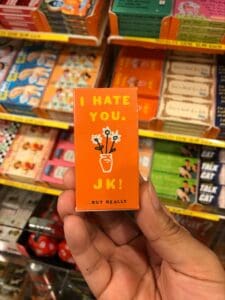 6. Lounge Lover - MarninSaylor
A dinner out sounds nice, but sometimes others enjoy a night in just as much! If you're person loves all things comfy and cozy, then we have an idea.
Explore one of Pike Place Market's newer stores called MarninSaylor. Specializing in hand made plush toys and branded apparel - this shop is sure to have plenty to gift. Grab your partner a comfy tee or sweatshirt to lounge in and an assorted dozen of donut cats to add to the couch and let movie night begin!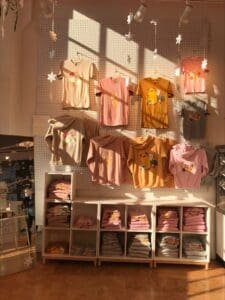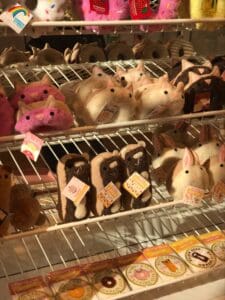 7. Jewelry Lover - House of Jade & Sunshine Jewelry
Say goodbye to heart-shaped jewelry and get ready to find a special piece! I saw no shortage of places to shop for necklaces, bracelets, rings and earrings, but after taking a browse through I narrowed it down to two. A bonus? Both are budget friendly!
House of Jade has been calling Pike Place Market their home base since 1976! Doubling as both a souvenir and jewelry shop, they hold cases of rings and shelves of earrings. They are nothing short of variety, and if anything you'll walk out with gifts for plenty. With so many options there's no doubt you'll find a hidden gem.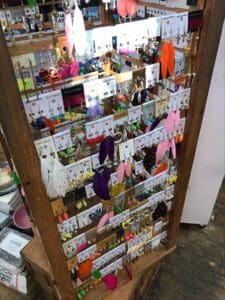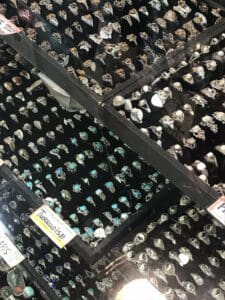 Looking for jewelry with more of a modern twist? Sunshine Jewelry is your stop! Not only do they have a wide variety of accessories, but there's no need to break the bank. Get your special someone a necklace and earring set instead of one or the other! A recommendation? This earrings caught my eye.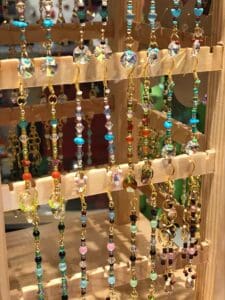 8. For Everyone - Argosy Cruises 
Now it wouldn't be complete without mentioning that all these amazing gifts could pair perfectly with tickets to an Argosy Cruise. What better way to say Happy Valentine's Day than to do something together? No need to break the bank either, since we love love, we are offering 50% OFF our Harbor and Locks Cruise - THIS WEEKEND ONLY! So lounge inside, read a book with a view, or sprout your newest jewelry and come aboard. Use code: LOVE22 to redeem online or in person.