Accessible only by boat, Blake Island Marine State Park is 1,127 acres of pure Pacific NW remote island bliss.  Many Seattleites have never been to the forested island only because they don't have the vessel to take them there, but Argosy (your friend with a boat) can bring you safely across Elliott Bay to explore the state park on the Evergreen Excursion or with the Blake Island Fast Ferry.
Scroll onward for a sneak peek of Evergreen Excursion with Joanna and Caitlin.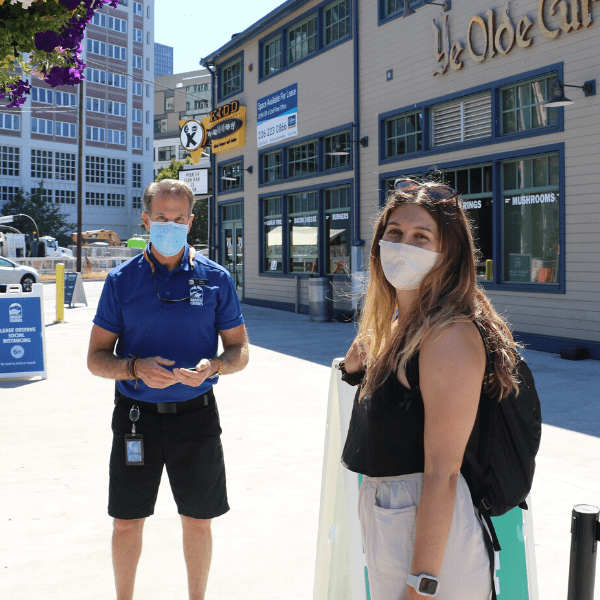 Arriving and checking in for boarding. We were asked to remember to keep our masks on throughout our cruise and on the island, aside from when drinking or eating.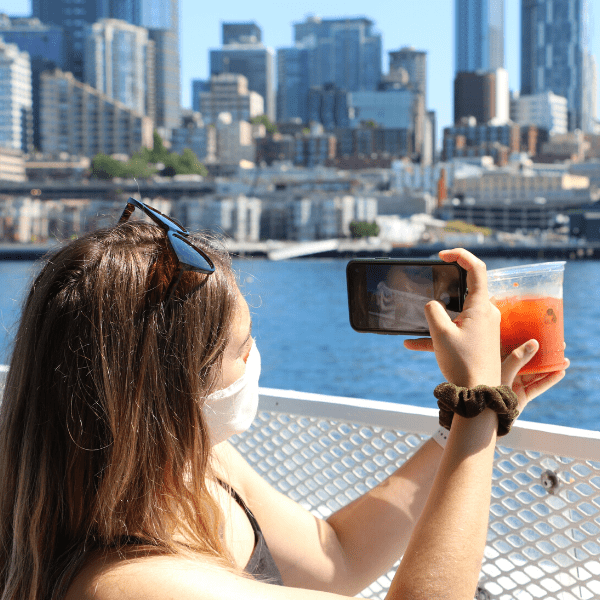 It was an amazingly sunny day in Seattle, one of the rare ones, making it an easy decision to order Bloody Mary's for the trip out.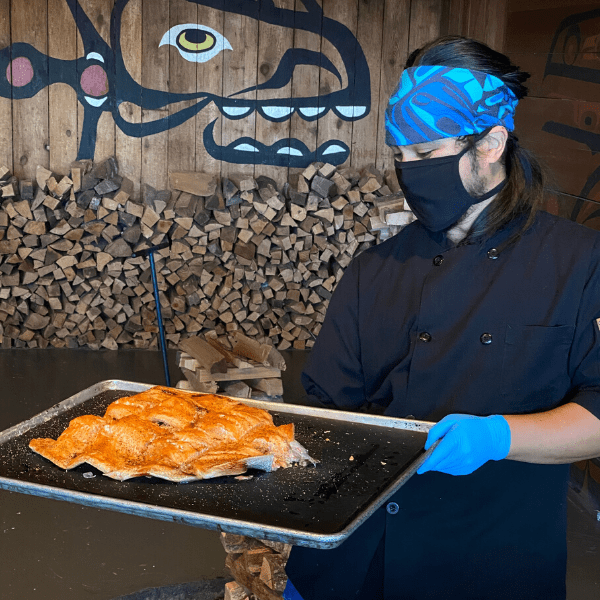 After a scenic 45 minute ride, we arrived at the Tillicum Longhouse. First activity of the excursion was a demonstration of the Coast Salish fire-roasting method, traditionally used to prepare salmon and other meats. This method is used at Tillicum today to prepare steelhead trout, the star of the Evergreen Excursion menu.*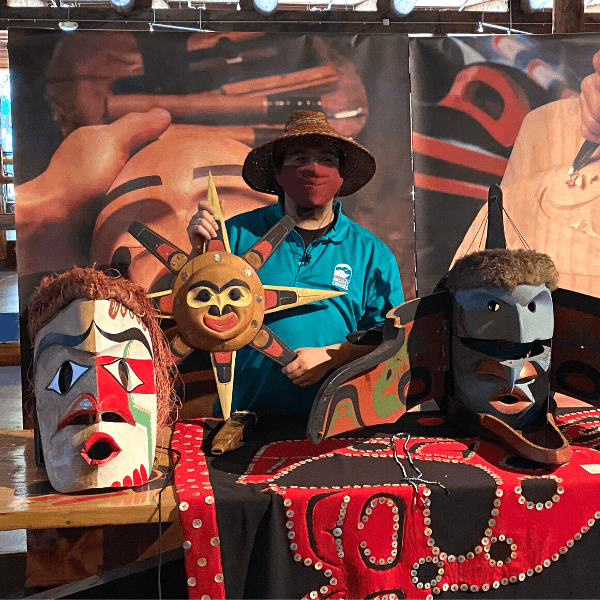 Following lunch, the activities came back full swing with the Cultural Presentation. Stevie (Makah and Tsimshian) led us through the importance of Coast Salish Potlatch ceremonies, concluding with a dance for everyone to try.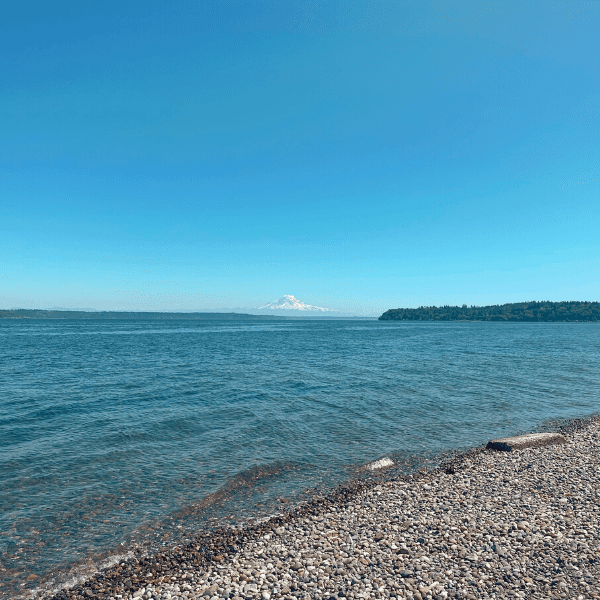 Now we had tons of energy to get outside and explore. Down at the beach the clear, blue view of Mt. Rainier was stunning.
Time for an obligatory mask and social distance photo op.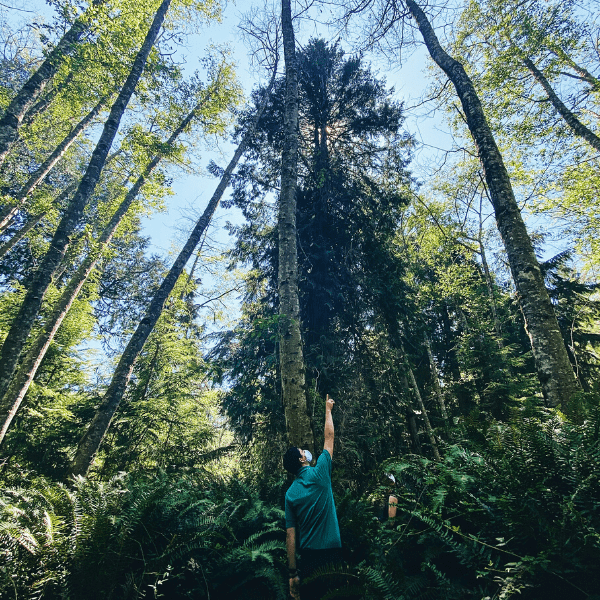 Ben, our knowledgeable island guide, walked us through the forest trails for some fascinating interpretation of the island flora and fauna.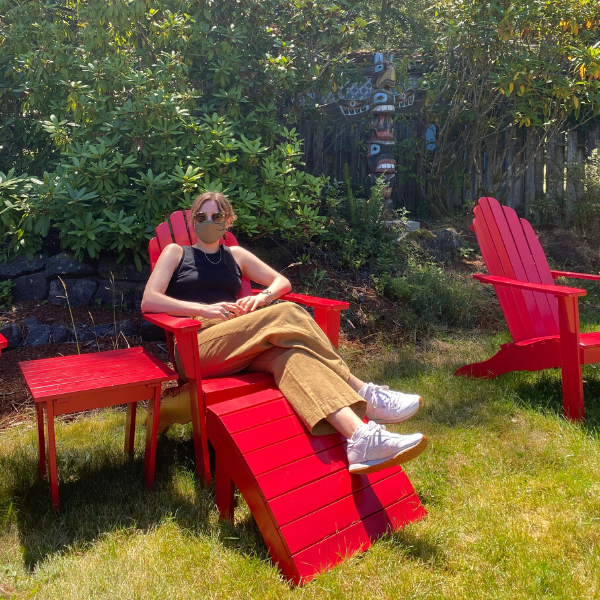 There was just enough time for a little relaxation in the Totem Garden before it was time to walk back to the boat.

Had to toast to our incredible day with a local draft from Fremont Brewing. Even managed to evade the newly dreaded mask tan after 5 hours of fun in the sun.
Cheers, Blake Island, see you again soon!
We're serious about the health and safety of our guests and employees. Read the Safety Measures before getting on board.