Paul "Mooselips" Dudley, an Argosy crew member since 1978, was recently awarded KIRO Radio's Hometown Hero Award which recognizes an "exceptional citizen in the local community who has impacted and inspired others." We spoke with President and CEO of Argosy Cruises, Kevin Clark, and Captain Mooselips to learn about his dedication to local summer camp programs, specifically those for kids and teens affected by cancer.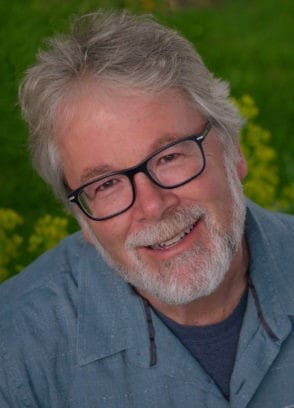 Paul started with Argosy as a Courtyard Ambassador, the "greatest job of all time," he says. He moved up from barking to deck and bar tending, and still announced a little bit until he earned his Captains license in 1982. The Mooselips nickname originated during his first year at Vashon Island's Camp Sealth (the location of several summer programs) in 1979, because it was "the silliest name I've ever come up with."
Today, Paul drives boats for Argosy's public tours, and volunteers with local camp programs like Camp Goodtimes, a not-for-profit program dedicated to kids affected by cancer. Welcoming kids as they arrive, you can say Captain Mooselips is their leader. He captains the Goodtime II and charters the kids from the Vashon Island base camp around Elliott Bay, stopping at the waterfront for the Annual Red Robin Fry Toss at Pier 55. Parents on the pier are ready and armed with buckets of fries to throw to the kids bunched up on the bow. Kids catch as many fries in their cups as they can while they dance and sing to the 'YMCA', until the fries run out and they cruise back to camp.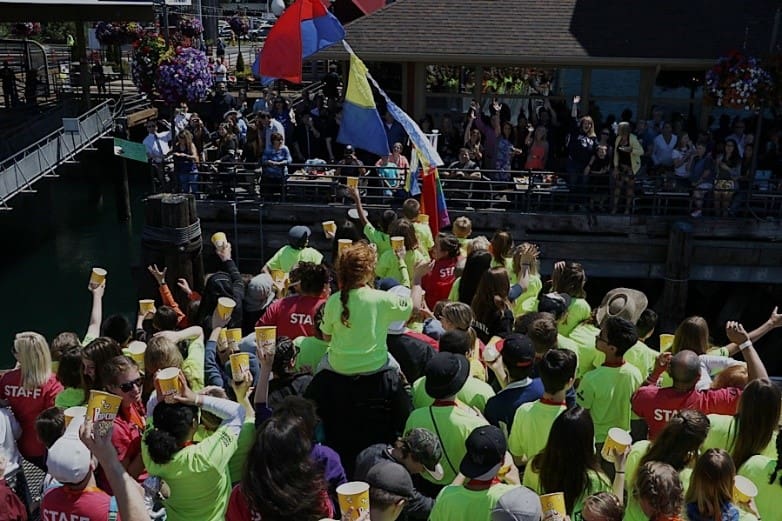 Kevin explains "campers at Camp Goodtimes are kids who had cancer, still have cancer and are still in some form of treatment, or are healthy siblings sharing the experience with their sister or brother. They have that same connection; the thread of what life is like once you are diagnosed.  The camp is filled with people that know what they are going through, supported by medical personnel and volunteers and this is their week to forget it all."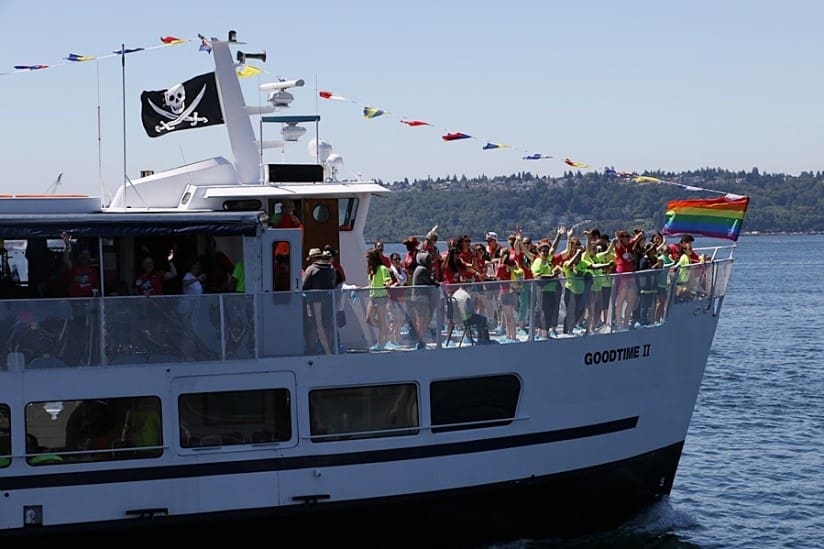 Captain Mooselips' years of dedication to our local camp programs makes him a clear Hometown Hero, especially for those affected by cancer. Paul stays connected with Camp Goodtimes members, visiting kids and teens during their hospitalizations. He shares "I firmly believe that when you see someone struggling in life, you should help in any way you can. It's as simple as that. If you have time, give of your time, if you have money, give your money. If you have any other way you can help a child, a friend, or a stranger in need, you should do it. It's cold out there sometimes and the wind against all of us can be so strong and daunting. By sharing love and compassion, together I believe that we can brave life's storm and affect positive change wherever our hearts lead us. Sometimes that windy day is out on Puget Sound, but the kids are all safe together, happy and dancing, on a boat that you trust me of all people to drive! Wow. I think that is pretty awesome."
Kevin, who submitted Paul as KIRO Radio's Hometown Hero, states his nomination "was one way to say thank you, for making me see the gift and strength of what it takes for him and other Camp Goodtime volunteers to continue to make a positive contribution to a young child's life, knowing they may have to share the loss of that child in the battle to cancer. He always has a smile on his face and in his voice. As I've said repeatedly, he is a gift."
These interviews have been edited for clarity and style.