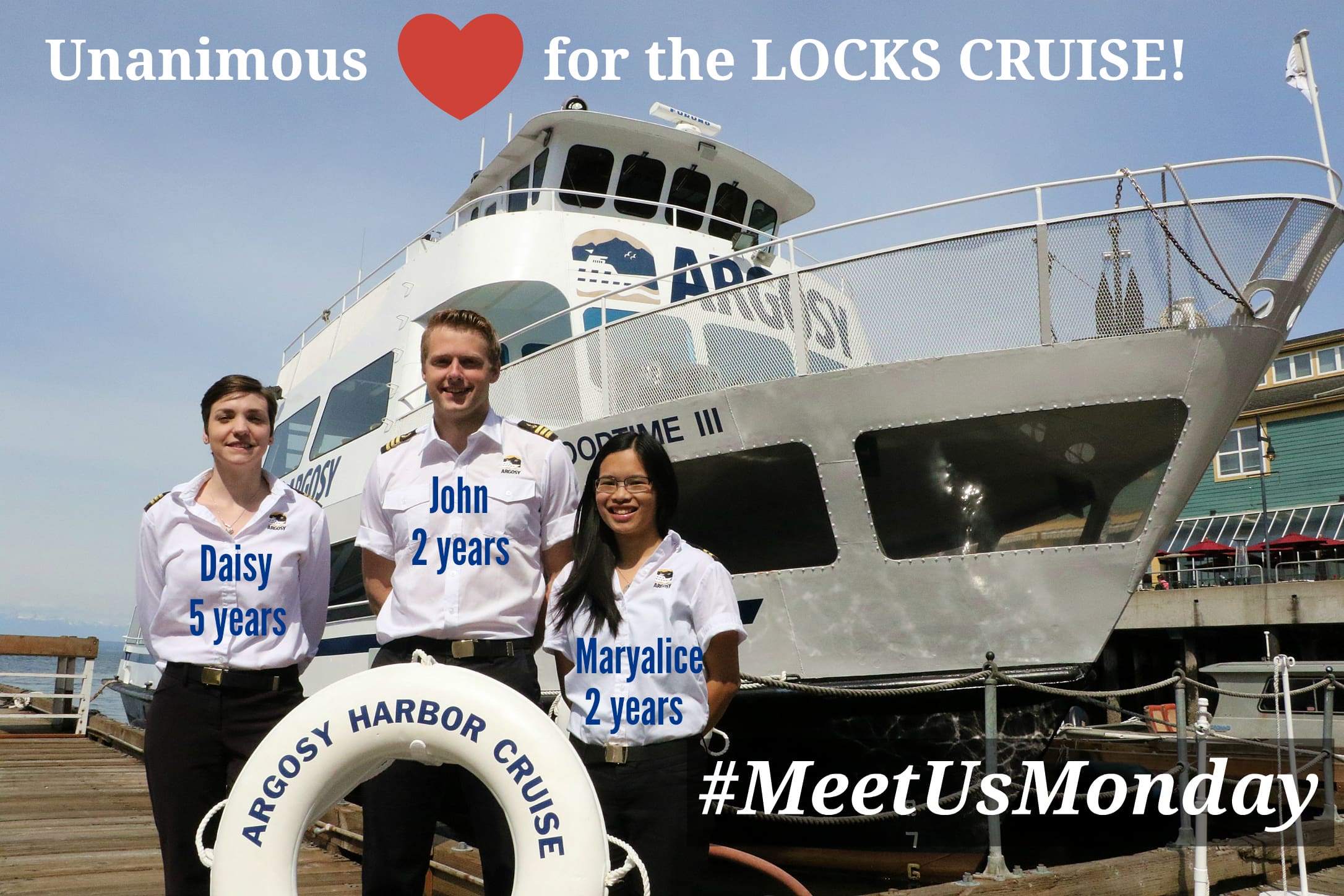 This #MeetUsMonday, we're introducing you to a few of our senior members of the Guest Services Team.
Before our passengers even set foot on our vessels, they are in excellent hands with our Guest Services Team: From picking up boarding passes from one of our ticket booths to being guided onto the dock for the correct cruise, having boarding photos taken so that guests have a keepsake of their adventures after they return to the dock...all of these under the guidance and assistance of our welcoming agents of first contact.
Guest Services takes reservations and fields questions over the phones throughout the day (you may remember meeting Front Desk Supervisor Lona back in January), doubles as our photography team, and answers all types of questions about Seattle and the waterfront down in our Pier 55 courtyard and over at our Argosy Visitor's Center in Pier 56, as well as our other locations out at the AGC Marina and Kirkland City Dock. They are our front line of service and excellent ambassadors for fun and information in and around Seattle.
Two of this week's highlighted team members are Leads (senior team members who oversee the day-to-day operations of Guest Services on the docks, in the ticket booths, and at our various locations, and coordinate with the Guest Services Managers) and one is one of our five Guest Services Trainers (experienced team members and the main trainers of new Guest Services staff through the season).
***
Daisy, Guest Services Lead
Argosy Cruises Team Member since 2011
Hometown: Gig Harbor, Washington
John, Guest Services Lead
Argosy Cruises Team Member since 2014
Hometown: Three Rivers, Michigan
Maryalice Weed, Guest Services Trainer
Argosy Cruises Team Member since 2014
Hometown: Edmonds, Washington
***
What is your Argosy "super power?" What is it that you bring to the team that is a unique skill to you?
Daisy: Maryalice is all about the details. And John is a great people person.
John: Yes, I enjoy keeping people happy.
Maryalice: Daisy is a great asset to our team and likes to lead by "getting stuff done."
What is your favorite cruise and boat, and why?
Daisy and John (simultaneously): Locks Cruise!
Daisy: But the Christmas Ship Festival is really fun, too. Great atmosphere. And operating out of so many different locations during the season is a nice change of scenery.
Maryalice: I love the Locks Cruise, too. I like being able to see both sides of the water on one cruise [salt of Elliott Bay and Puget Sound, fresh of the Ship Canal and Lake Union], and the locks themselves are really cool. And the cruise is usually on my favorite boat, the Goodtime III. I like the layout of the boat, and it's a good size. Not too big.
You all like the Goodtime III so much...where do you like to sit for a Locks Cruise?
Maryalice: Usually, top deck, on the inside. Or on the bow. I'll sit outside for a while, but once we get to the locks I go outside.
John: A back bench. That's where I always sit, on a back bench.
Daisy: Top deck stern!
What other departments would you like to job shadow for a day?
John: Marketing. It's what I'm going to school for, currently.
Daisy: I've always wanted to try working on the boats, but I live on the Peninsula so it would be hard...but I'd like to give Boat Crew a try. I'd love to pick up some of those deck handing skills.
Maryalice: I would say boats...but I might shadow our Gift Shop Purchaser. I feel like there's a lot of detail that what goes into what we select.
What is your favorite Argosy Moment? What have you experienced on one of our cruises or boats that you couldn't get anywhere else?
Maryalice: It's Christmas Ship, and we're over at Lake Union. There's a team of us helping passengers get onto the Spirit of Seattle, and these two little girls all dressed up in pink came running up, SO excited, yelling, "Santa! Santa! Santa!" They were SO happy to see him! So adorable.
Daisy: One of my favorite moments here was taking the Locks Cruise and seeing a tugboat in dry dock, up close. That was really cool. There is so much boat underwater, so only when it's up in a dry dock can you really get a true sense for just how large and powerful those vessels are.
John: When the Camp Goodtimes trip comes to the dock to visit Red Robin. [Camp Goodtimes is part of the Goodtimes Project, a not-for-profit that helps kids living with cancer experience the joys of childhood in a safe and medically supported environment.] Many of the kids parents are waiting for the boat on the dock, along with some of the servers at Red Robin, and they throw French fries to their kids on board the boat! We do the trip every year in the summertime. All these kids who look so happy to be out on the water. I've had to clean up the fries that missed the boat the past couple years, but it's worth it to see those kids having such a great time.
What is your favorite Waterfront area stop (besides us)?
Daisy: For me, it would have to be the Pike Place Market. And if I had just a bit of time, I'd go to Piroshky, Piroshky, the Russian bakery.
John: A walk in the Olympic Sculpture Park is a pretty cool thing to do. That's where I like to hang out. Favorite piece? The big head.
Maryalice: If it was just me by myself, I would probably walk through the Market and then I'd start at the end of the waterfront and just walk all the way down. And I'd have to stop at Ye Old Curiosity Shop. A couple of the counters in there have all these origami dollars bills, and I think that's pretty cool. And now I wanna look up how to do that!
If you could charter one of our boats, which one would you use, where would you cruise, and what would the event be like?
John: I would take the Lady Mary and make it a poker boat, everyone playing poker. We'd cruise out of Pier 55 on the waterfront, and I would cruise to, say, an hour north of Discovery Park and back. It's gorgeous up there. I think that would be nice. Evening cruise. People dressed to the nines.
Maryalice: I would take the Champagne Lady...and I have to say, I'd do a sunset cruise. A summer day sunset cruise. I'd take all my friends and we'd be out here on the waterfront. And I think a game night sounds like fun. But a movie night could be cool, too.
Daisy: Goodtime III, late afternoon, on the waterfront, game night.
***