For most people, living on a boat and sailing off into the sea is a dream, a dream many people don't get to fulfill. An overnight in a boat, may seem unfamiliar to many, but in Seattle? Definitely not the case. This city has such a strong houseboat community that finding someone who lives in any categories of a FOWR (Floating On Water Residence), isn't much of a surprise. Floating home? Houseboat? Seattleites love the water! So much that we don't mind living in it (rain) and on it.
Although it isn't completely unknown to have your living quarters be a boat, it is still a more unique experience compared to a traditional apartment, condo, and house. Some people could easily decide if they would do this or not, but for those who are playing with the possible idea - this is for you! No need to guess what it's like because we interviewed someone who was living the actual experience of it all.
Lake Union Livin'!
Seattle local, Skyla Sorensen, currently lives in a houseboat. The term "houseboat" refers to vessels that sit in recreational marinas, with their neighbors usually being powerboats and sailboats. Not a newbie to this experience, Skyla decided to start a short-term lease with her current boat, Lily, as she moved back to Seattle. With Lily being the second vessel, she lived on, the first was one she decided to buy herself, called the Misadventure! Living in the Bellingham Marina for one year and a half, she decided to sell and part ways. As she moved back towards Seattle she decided to continue boat living!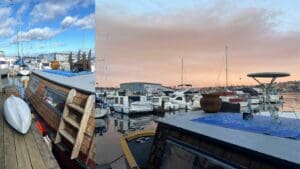 Moored in Lake Union, the owner of Lily primarily rents her out as an Airbnb. Luckily, since the market for Airbnb slows down in Seattle during the winter time, Skyla was able to swoop in and ask for a short term lease. The owners agreed to this decision and as Skyla explained "Something I learned when I owned my previous boat is that many of the problems boats face in the winter, like mold, are helped when there's constant human presence keeping things warm and dry." Renting this boat out on deal, we asked some questions and Skyla answered:
Why did you decide to live on a boat instead of other housing?
I came across boat life while I was looking for a cheap place to rent in my final year at college. I found out that I could buy a boat, moor it for a year, resell it, and still pay less overall than I would if I had lived in a traditional apartment.  If you're willing to put up with some discomfort, you can essentially get waterfront property for a much lower cost. Seattleites have known this for decades and I'm sure it's part of why we have such a vibrant houseboat culture.
Pros? Cons?
Living on a boat isn't easy. You're constantly thinking about how much water you have, how much your electricity can handle, what's the status of your bilge - it's basically a waiting game of what will go wrong next. When I owned my boat I would have nightmares about my lines breaking and it floating out to sea. Boats are also more prone to critter invasions, like mice, rats, geese, and even beavers or otters.
The list of pros is greater than cons, in my opinion. I love falling asleep to the rocking of the boat and waking up in the morning to the sound of seagulls and geese. Boat neighbors also make the best neighbors. There's a feeling of camaraderie with everyone on the dock because no matter the size or quality of your boat, you're all dealing with the same things. It's a very kind, supportive community. Another positive to living on a boat is how much more conscious you are of your consumption. Having to fill a water tank every few days helps naturally cut down on waste because you're careful to use every drop efficiently.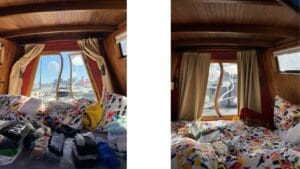 Your favorite thing about living on a boat? Least favorite?
My favorite thing about living on a boat is absolutely the proximity to water. Being able to get out on the water in a dinghy or a kayak within minutes is an incredible privilege. My least favorite thing is the constant worry that something will break. Pumps are fragile and you need them to do pretty much everything on a boat, like run the toilet, pump out the bilge, and provide water for your sink and shower. When one of ours broke for about a week it made me realize how much I took running water for granted. Never again!
Something fun, funny, or interesting you experienced that you wouldn't necessarily get from living in a house/apartment?
We recently had a mama goose nest on our roof directly above our front door. It was pretty cute until we realized the hard way that Canadian geese are extremely territorial birds. The geese would watch us through our windows, even while we slept! If I walked too close to the window they would hiss and peck at the glass. Whenever one of us left the boat the other had to distract them so the birds wouldn't fly at us. It was like living inside a national geographic special. I can safely say I've learned more about geese than I ever thought I would.
With 250 houseboats and 500 floating homes all on Lake Union, not everyone is able to have such a unique and fun experience. It's quite possibly another way of having a home with a "waterfront view". So, would you live in a houseboat?
FULL BOAT TOUR BELOW OR CHECK OUT OUR TIKTOK!