Choose to Cruise the Ballard Locks!
You travel to Seattle. You've searched where to go and what to do. Argosy Cruises is at the top of your list (of course we are). Although you know you want to cruise with us, you aren't too sure on which tour to do. You have time and you are eager to see as much as you can. Your gut tells you Locks Cruise. Your gut isn't wrong. You wonder, what is the Ballard Locks? Why go there? You google it. Then, you stumble upon this blog.


The Ballard Locks, one of Seattle's most popular tourist attractions, is a staple stop for any tourist and a constant hangout spot for many locals. Besides the beautiful greenery and park surrounding it, the Locks has a featured fish ladder (majority salmon) and botanical garden that adds to the list of reasons to visit.
What is a "lock"?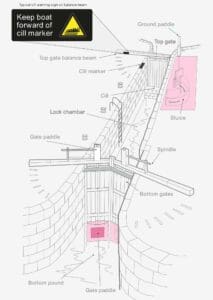 Now for the out of towners or people who aren't well versed in water infrastructure (that would be me), here is a quick 101!
A lock is a type of water device that assists boats, ships, etc. go from one level of water to another. Within a lock is a lock chamber, which is an enclosed, tight area that holds the water and boats, while either slowly filling or emptying that said area. The chamber has gates that start off slightly cracked open to help with a steady release of water. Until both sides of a gate is at equal water level, it cannot fully open. Thank you, water pressure!
H for Hiram & History
Completed in 1917, the Hiram M. Chittenden Locks (official name) was built and completed by the U.S. Army Corps of Engineers. Connecting the Puget Sound waves and waters from both Lake Union and Lake Washington, the locks serve three main purposes:
To maintain the freshwater level of Lake Washington and Union at 20-22 feet above sea level
To prevent mixing of fresh and sea water from both bodies (saltwater intrusion)
To move boats from the lakes water level to the Puget Sound water level, and vice versa
Ballard Locks was built with commerce in mind, but that does not mean it's strictly business. Being the busiest Lock in the nation (in terms of boat traffic), the smaller, recreational vessels are the ones that make Ballard Locks claim that title! The amount of vessels going through comes to about a whopping 50,000 each year!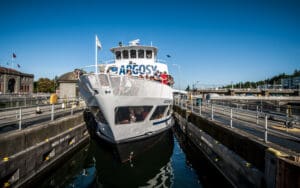 Out of that 50,000, Argosy Cruises is lucky to be one of them! On our Locks Cruise, you get to experience the "boat elevator" firsthand AND with a front row view. As a popular tourist attraction both on land and on water – going on this cruise, you and our boat are the attraction. There really isn't a reason to look any further because this unique cruise is exclusive to Argosy! We are the only boat tour company able to go through the actual Locks. In addition to the Ballard Locks being a focal point on this tour, you get 2 hours of amazing history and views. If you're trying to see as much of Seattle as you can, the Locks Cruise is definitely for you!
Sources & Citations:
A Guide to Operating Locks, ABC Boat Hire Blog
https://www.abcboathire.com/more-information/a-guide-to-operating-locks
Hiram M. Chitteden Locks, Seattle District Website
https://www.nws.usace.army.mil/Missions/Civil-Works/Locks-and-Dams/Chittenden-Locks/