Argosy Cruises, the Seattle Times, and Butch Blum's "Spirits of Giving"
We here at Argosy Cruises participated in TWO mannequin challenges this year. The first one you may have seen taking the internet by storm: Lots of people standing perfectly still while a camera moves among them. (You can see our version here on Facebook.) The second one involved decorating a mannequin to create a "Spirit of Giving" for Butch Blum, the longtime home of European designer clothing in downtown Seattle.
The "Spirits of Giving"
Butch Blum selected seven local organizations to participate their 2016 "Spirits of Giving" fundraiser. Each organization received one of the store's mannequins to decorate in a festive holiday style related to their particular line of work. These "Spirits" were then brought to the store to be displayed in the windows lining Sixth Avenue in downtown Seattle through the holiday season.
In addition to adding some festive flair for holiday shoppers in the area, each "Spirit" is up for auction with the proceeds from each going to a different non-profit organization. The Argosy/Seattle Times "Spirit of Giving" will raise money for the Seattle Times Fund for the Needy, as does the Christmas Ship™ Festival itself.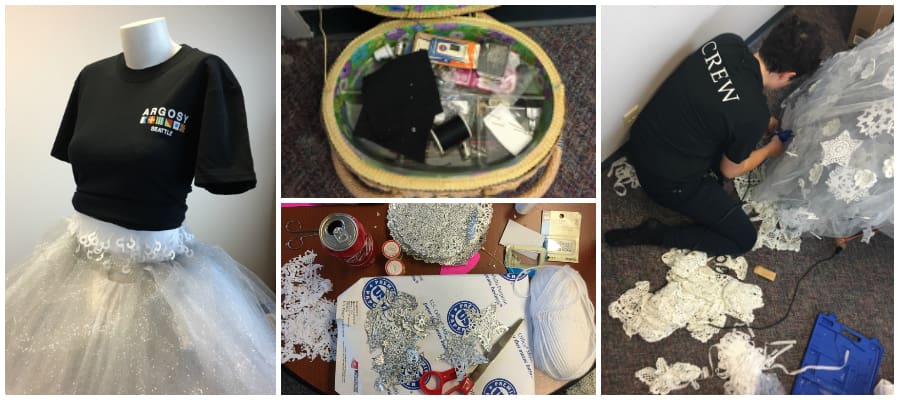 The Build
Design and construction of the Argosy/Seattle Times "Spirit" started way back in August. Several brainstorming sessions preceded a final design concept that was sent to Butch Blum for approval.
The designs were a hit! On September 7, our mannequin was picked up from the store and brought down to our offices in Pier 55. Several more design sessions followed, with construction taking place from late October through mid-November.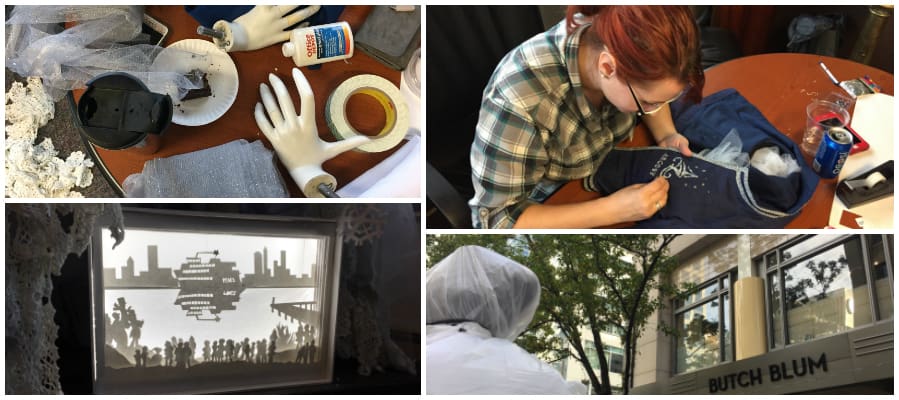 The Journey from Pier 55 to Butch Blum
On Monday, November 14, the mannequin team hoisted the finished product into the back of a pick-up truck for the 2/3 of a mile trek through downtown Seattle from Pier 55 to the Butch Blum store at Sixth and Union. Watch the journey below!
How to Bid
Minimum bids for each "Spirit of Giving" start at $250. Butch Blum is taking bids now through December 7, the night of their annual Ladies Night Out party.  To submit a bid for the Argosy Cruises/Seattle Times "Spirit of Giving" (or any of the other "Spirits") simply contact Butch Blum here.
Thank Yous!
We'd like to thank Butch Blum for the opportunity to share the Christmas Ship™ Festival in an entirely new way.
Many thanks to those employees who participated in the brain-storming sessions, materials purchase, and the crafting. The main team behind the look was Captain Aren Jensen, Captain Kristi Schooley, Jaime Garrand, Becca Headline, Hannah Berkimer, Mari Roll, and Gabby Bihary.
A special thank-you to Maintenance Team Member Kenny Wicklund for the use of the truck and for his careful driving through downtown Seattle.