This is the second of three posts about our three different locations in the Puget Sound region. The first post highlighted our Seattle Waterfront location at Pier 55. This #MeetUsMonday, we take you into the fresh water of Lake Union to our centrally situated docking facility at the AGC Marina.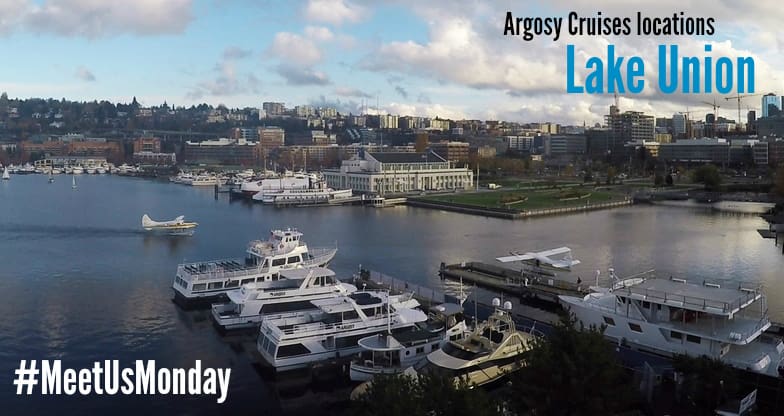 Lake Union (AGC Marina, Dock E)
Argosy Cruises location since 1997
Home to the Queen's Launch, Celebrations, Champagne Lady, Goodtime III
Public cruises departing from Argosy Lake Union: Locks Cruise, Locks Cruise Stay & Play, Christmas Ship™ Festival (select nights)
***
Argosy began operations in South Lake Union in 1996 when the newly-purchased Queen's Launch started giving a 2-hour Lake Union and Lake Washington Cruise out of Chandler's Cove over on the east side of the southern end of the lake. In 1997 the Lake Union operations were moved to the west side of South Lake Union to improve access to our boats there and to add parking for customers.
Our Lake Union location lies just north of the South Lake Union neighborhood, home to some of the largest companies in Washington state, like Amazon.com, Group Health, PEMCO, Fred Hutchinson Cancer Research Center, and more. Just to the east of this location are some of Seattleite's favorite places to spend time: Lake Union Park, the Museum of History and Industry, and the Center for Wooden Boats.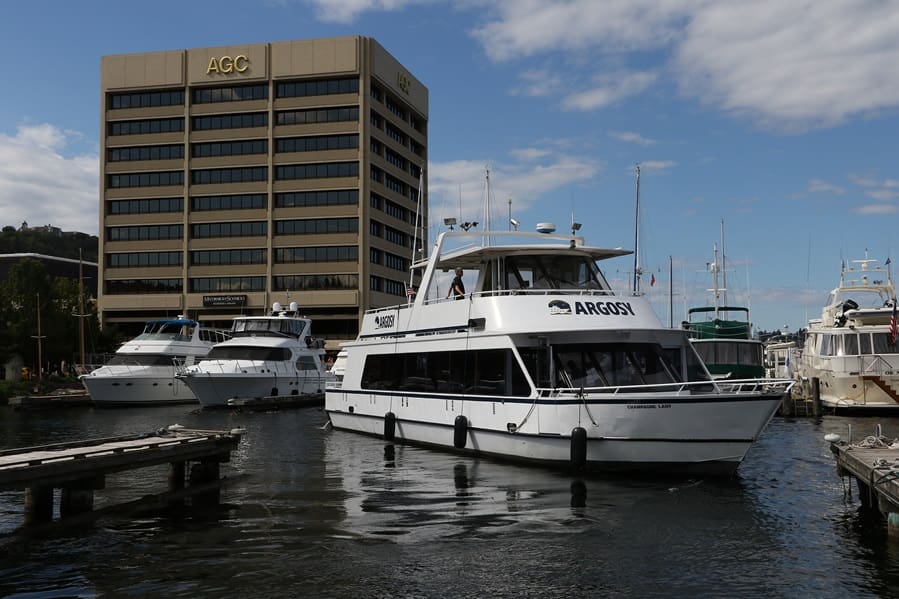 The nearby Associated General Contractors (AGC) Building for which the marina is named makes this location easy to find: just LOOK UP!
This location has one ticketing area which opens about 30 minutes prior to public cruise sailings and closes as the last public sailing of the day departs. Just like our other locations, this ticket booth is staffed with Guest Services Team Members who can help you choose the right cruise for you, take payment and print boarding passes, and answer general questions about Seattle.
The marina lies adjacent to the 6.2 mile/10 kilometer Cheshiahud Loop that encircles Lake Union, and just a short stroll south to South Lake Union Park, the Museum of History and Industry (MOHAI), and the Center for Wooden Boats. The Space Needle and Seattle Center are only a 20-minute walk to the southwest.
With our Lake Union Cruise and our new ONE-WAY Locks Cruise, our guests can make a day of it in the South Lake Union neighborhood by strolling though the nearby parks, exploring local attractions like MOHAI and the Space Needle, or enjoy any number of the area's excellent restaurants, such as Serious Pie, Cactus, or Brave Horse Tavern. See the map above for locations to many fun and tasty nearby spots.
Getting to the marina by car? You can get day-of-cruise $4 parking vouchers (with validation from Argosy crewmembers when you sail and park in the lot adjacent to the AGC Marina. Metered parking is also available on both sides of Westlake Avenue North.
For the transit-inclined, King County Metro Route 40 has a stop next to the AGC Marina and stops every 15 minutes. Nearby South Lake Union Streetcar stops can take riders into north Downtown Seattle, and several Pronto Cycle Share Stations are also located nearby. See the map above for more information on South Lake Union transit options.