#MeetUsMonday - Champagne Lady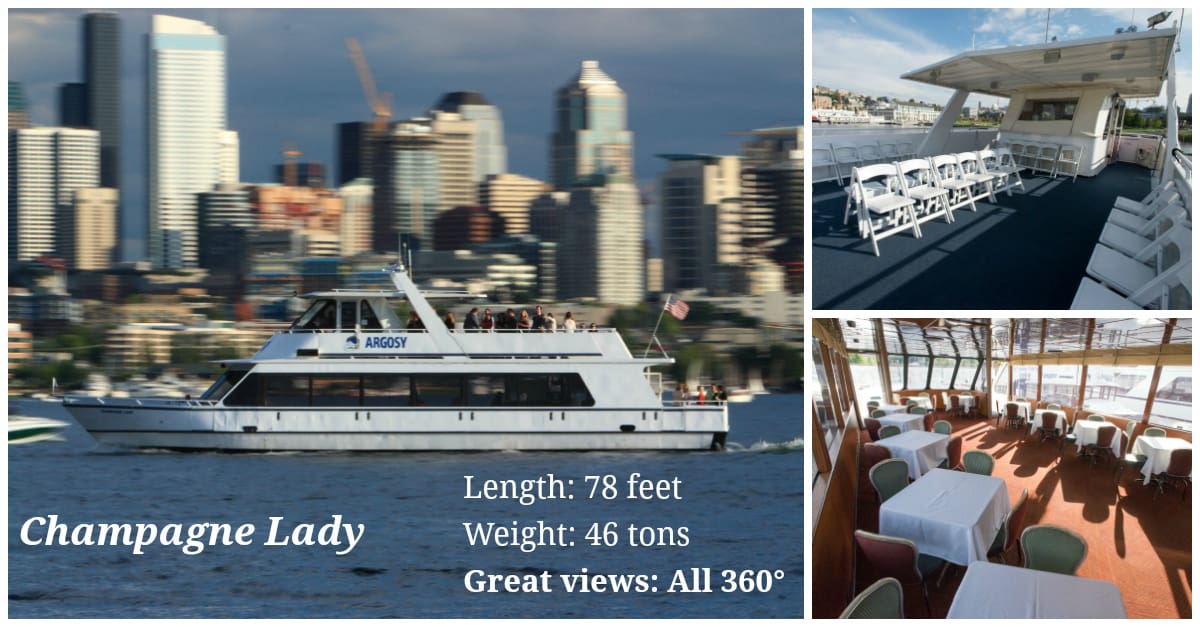 Argosy Cruises Team Member since 1993
Built by: SkipperLiner, La Crosse, Wisconsin
Hometown: Seattle, Washington
Often thought of as the sister ship to the Celebrations, the Champagne Lady also joined the Argosy fleet in 1993, and in late-1990s became the main vessel for our Lake Seattle Cruise.
The Champagne Lady offers room for a maximum of 60 guests for a standing reception event or 48 guests for table seating. A full-service bar and galley are both located on the first deck. The upper deck is open air with an additional bar area for seasonal use. The Champagne Lady is moored at AGC Marina on South Lake Union.
This year, on Saturday, March 5, the Lake Seattle Cruise returns as the NEW Lake Union Cruise. Passengers will still see all the floating homes and houseboats of Lake Union, the stunning industrial architecture of Gas Works Park, and all the recreational boating that gives lake Union its reputation as Seattle's aquatic playground -- but at the tour's turnaround point near the University of Washington, we've added new content about the UW's men's-8 crew team, whose story was the basis of the bestselling book, The Boys in the Boat.
Vessel Fun Fact: The best place to be on a sunny summer day in Seattle is out on the open-air bow of the Champagne Lady on a cruise of Lake Union, with a glass of champagne in your hand and a friend at your side.
To view a 360° virtual tour of the Champagne Lady, click here.