The NEW ArgosyCruises.com
Behind the digital scenes at Argosy Cruises we have been BUSY for months working on a brand new website. Last Tuesday it went live, and for today's #MeetUsMonday we are sharing with you some of the new features.
Cruise Schedules
One of the first things visitors see now on our homepage is the day's sailing schedule. No more digging around in the separate cruise pages looking for what's available TODAY -- those sailings are now front and center! Click on the sailing of our choice and be taken to more information about that cruise. When there are fewer than five sailings, the next day's sailings roll onto the calendar so you can see availability in the near future.
Along with this homepage schedule, we have a monthly cruise calendar that displays all cruises available for each date. For instance, clicking on November 26 brings up the schedules for a Locks Cruise, three Harbor Cruises, and a Christmas Ship sailing.
Groups & Charters
Another major change to the website is an easier to navigate and more descriptive Groups & Charters section. Private charter and event information is now grouped into four main categories, each with their own separate cruise packages and options. Our new Request a Quote forms have been rewritten to help you share with us the most useful information ahead of first contact with our Sales Executives. We've also added customer testimonials from recent cruises so potential clients can learn more about what to expect when working with us, both during the event planning process and during your event.
Deals & Combos
Looking for ways to cruise for less? Now all our Deals & Combos are listed in one place on our website. But if you're looking for deals and combos that may work with a particular cruise you are interested in, applicable specials are also listed on individual cruise pages.
Experience
The brand new Experience menu tab is where you get to know us better. Find information about our namesake fleet of vessels, learn more about or staff and locations on the Blog, and best of all, find the cruise you're looking for with our new Sights page?
The Sights page is where you can browse through our sightseeing cruise options based on what sights you'd like to see while cruising!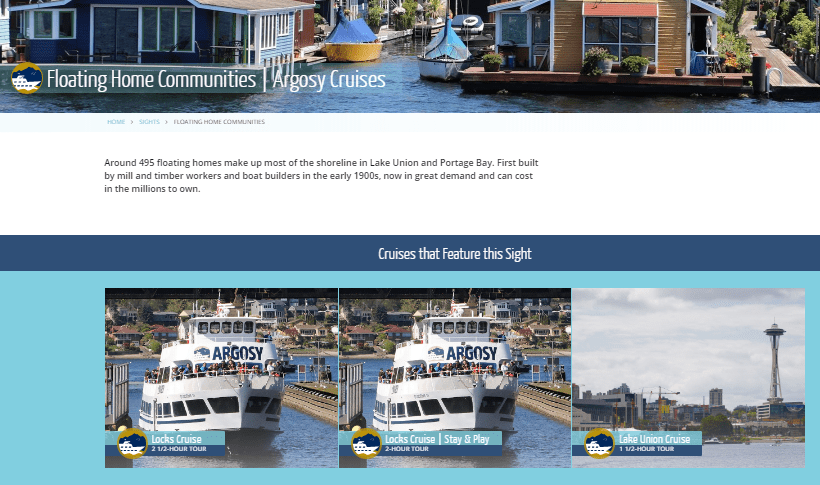 Looking for floating homes? Our Locks Cruise and Lake Union Cruise will both float you right on past loads of them.
Do our Washington State Ferries float your boat? You'll see those on our Harbor and Locks cruises, as well as on the Tillicum Excursion.
Microsoft fan? To see the Gates Estate, check out our Lake Washington Cruise.
Want to make sure you see the Seattle skyline on your cruise? Well, you can see a bit of it on ALL our cruises, but the Harbor Cruise is your best bet there.
********
Those are the big additions to ArgosyCruises.com that we're highlighting for you this #MeetUsMonday, but there are many others you will find as you explore the site. (And if you're reading this on a mobile device, you may have noticed a few others already!)
We'd love to hear your feedback on the new design. Feel free to drop us a note...via our new Contact Us page! (See what we did there?)