Top Reasons to Visit Blake Island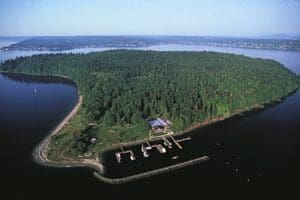 Blake Island Marine State Park,  a quick 45-minute boat ride away from downtown Seattle, is 475-acres of evergreens, history and fun! Whether you visit for the day or camp for the weekend, this secluded island (accessible only by boat) features views of the city skyline and the natural beauty of the Pacific Northwest. Below are four very good reasons to visit Seattle's best kept secret.
1. The Wildlife
Explore the island's 15 miles of trails and you're likely to spot bald eagles perched above you and deer grazing between the trees. Closer to the shore, geoducks announce themselves with sudden squirts of seawater, and an assortment of large shells are scattered over the rocky saltwater beach. If you're an underwater adventurer, there's a lesser-known scuba diver's area on the southern shore. This artificial reef made up of cement debris is home to Elliott Bay's underwater neighbors like rockfish, wolf eels and octopus.
2. The Activities
Blake Island is full of activities to satisfy any outdoor enthusiast. Get to the island by an Argosy boat and plan a day with Vashon Watersports on a guided kayak trip. Bring your camping gear and stay for the night on the island campground. Argosy's new Evergreen Excursion offers a variety of Island Activities like a Guided Walk through the trails and a tour of the Longhouse art and totem poles. No matter which activity you decide, families, couples and solo trippers can have an awesome day in a secluded island of wilderness.
3. The Food
If you travel to the island by private boat, plan for lunch or early dinner at the Tillicum Longhouse. Famous for the alder fire-roasted fish and steamed clams, Tillicum offers a buffet stocked with Pacific Northwest flavors. Tillicum Bread, a dark wheat bread sourced from a local bakery in Kent, WA, is deliciously sweet, and one of the more popular items to bring home from the gift shop.
4. The History and Heritage
Blake Island was used by the ancestors of the Coast Salish Suquamish tribe as a camp ground, where they fished for salmon and harvested shellfish. Chief Si'ahl, whom Seattle is named after, is told to have been born here. Quickly after its discovery by Captain George Vancouver in 1792, the island was put to monetary use. Cedar and Fir trees were cut and shipped to the Bainbridge Island saw mill during the mid-1800's log boom. The island passed between owners for decades until finally in 1959, the deed was transferred to Washington State, who declared it a marine state park. Since its park status, new trees have grown, the island wildlife is protected, and the land of the Coast Salish continues to be celebrated.
Sources: GoNorthwest.com, Parks.State.WA.US, ThePerfectDive.com