3rd Annual Parade of Boats Night | Vessel Registration
Date: Friday, December 15, 2017
Time: Approximately 7:00 to 9:30 PM
Location: Lake Union, Fremont Cut
Fee: $25 Donation**
NEW THIS YEAR: The 1st Performance from the Choir on board the Spirit of Seattle, the Official Christmas Ship™, is to YOU the boaters in the middle of Lake Union @ 7:20 PM!
The 3rd Annual Christmas Ship™ Festival Parade of Boats Night will add a special twinkle to Lake Union on the evening of Friday, December 15 between 7:00 PM and 9:30 PM*. Brightly decorated boats from all over the region will convene and promenade around Lake Union, then travel westward through the Fremont Cut, past Fisherman's Terminal, then back to Lake Union.
Participating vessels will be judged by an onshore panel of local media personalities and the public, and awards will be given to the most creative and festive boats.
*All times are approximate and subject to change due to marine traffic, weather, and numbers of participating vessels.
---
**2017 Boater Registration Donation!
The $25 Registration Fee for participating boaters is a suggested minimum charitable donation to The Seattle Times Fund For The Needy, an annual program that raises money for 12 local charitable organizations in the Puget Sound area. While this donation is not mandatory, we strongly urge participants to demonstrate their commitment to the Parade of Boats by supporting the official Christmas Ship Festival beneficiary.  For more information, visit: www.SeattleTimes.com/ffn
---
Parade Route   Awards  Registration Form
---
 Award Categories:
Best In Show
Most Holiday Spirit
Best Holiday Decorated Powerboat
Best Holiday Decorated Sailboat
Best Seattle Sports Team Themed Boat
Vote for the People's Choice Award
---
Parade Route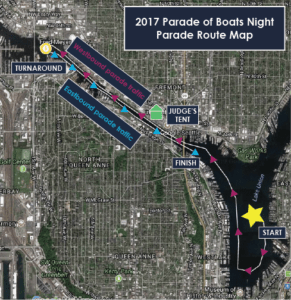 ---
Vessel Registration Form
Registration is now closed. 
If you have NOT received a confirmation email, but believe you have registered, please email [email protected] or call 206.623.1445 and ask for Jaime Garrand. 
Vessels not registered will be required to follow behind the official Parade and will NOT be eligible for an award.

Receiving a Parade invitation does not constitute registration. You must register with Argosy Cruises even if you have received a verbal or written invitation from Argosy.