Celebrating 22 Years of Partnership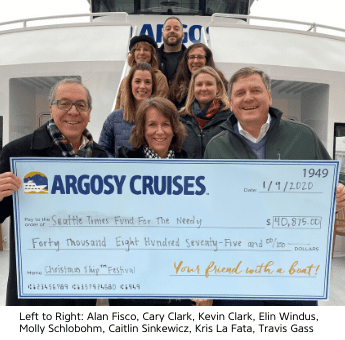 Every Christmas Ship™ Festival, we partner with The Seattle Times to benefit its charity Fund For The Needy, a non-profit which raises funds for 12 Puget Sound non-profit organizations like Child Haven, Treehouse, and Big Brothers Big Sisters.
This year, Christmas Ship™ guests helped donate...
A portion of ticket and beverage sales ($35,474)
100% raffle proceeds ($5,400)
Parade of Boats direct donations ($1,150)
Today, we gave the president of The Seattle Times, Alan Fisco, a record-breaking check for $40,875.
Since starting the partnership in 1996, Argosy has donated $660,689‬.
Alaska Airlines Raffle Giveaway:
Congratulations to the lucky winner, Jacob S!*
Our partners at Alaska Airlines kindly donated one pair of airline tickets towards our Christmas Ship™ raffle.
Special Thanks
The Seattle Times
Q13 Fox
Alaska Airlines
Seattle's Child
Black Raven Brewing Co.
FareStart Catering
Seattle Parks and Recreation
Watch the video | Facebook.com/ArgosyCruises
*Winner will be contacted directly