Happy Hour, but make it sustainable!
Argosy Cruises has called Seattle home for over 70 plus years. Not only do we hold this city near and dear to our hearts, but we know that as a business who has been operating in this community for years, we have a responsibility as well.
As stated in our Sustainability Policy, we have a responsibility to maximizing community benefit. One main way we do this is by "developing and implementing a purchasing policy that prioritizes locally-owned and operated suppliers". We specifically carry this out when it comes to the spirits, beers, and wines we carry.
In the month of July, we came out with Booze & Views! Our campaign for happy hour goers to elevate where they go and take HH to the water. Exclusively focused on our 6:00 pm and 7:20 pm Harbor Cruise sailings, we also decided to feature a boozy beverage every week. Not only are they all delicious, but the main common denominator in all the featured specials is that they come from local vendors in the Seattle area. Not along are the below businesses great, but they all have their own ways of staying sustainable. Read along to find out a little more about our onboard bar and who we carry!
Pike Brewing
Right in the heart of Pike Place Market and not too far down the road from us is Pike Brewing. Founded in 1989 by Charles and Rose Ann Finkel, a dream of theirs to open a brewery came true! Their current location on First Avenue between Pike and Union is where they moved to in 1996. With almost 30 plus years in business, they brew to this day.
Not only featured as a boozy beverage, but come try out their Pike Cosmic Pulp IPA on our boats. We carry it year round!
View this post on Instagram
Copperworks Distillery
An even closer neighbor to Argosy Cruises, just right across the street is Copperworks Distilling Company! In 2013, Copperworks was created by Jason Parker and Micah Nutt both coming from backgrounds that hold passion for craft brewing and distilling. Primarily focused on the craft of spirits, these two have not only perfected a way of distilling but have a large focus on the sustainability of it all. One main way they stay sustainable was by installing a large water-cooling station at their waterfront location that helps them reuse the same water throughout the distilling process.
Find their gin on our boats and in our featured cocktail for Booze & Views, Golden Hour.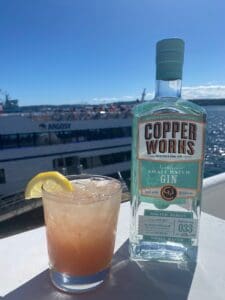 Elliott Bay Brewing
With multiple locations spread throughout Washington, Elliot Bay Brewing is a Seattle classic. In 1997 two friends Todd Carden and Brent Norton joined forces to create a place based on "good beer, food, and service". About 25 years since they started, they currently have three locations (West Seattle, Burien, and Lake City). Community engagement and building is a large pillar in how they do business and stay sustainable, and we couldn't agree more!
Grab a cold one on our boats and order the organic Luna Weizen on tap! Available year-round.
View this post on Instagram
Fremont Mischief Distilling
Serving many award-winning spirits made with local ingredients, Fremont Mischief Distilling is a premier distilling destination. Come by to buy a bottle for you bar cart of visit their tasting room or craft cocktail bar. With a select menu of delicious apps and sandwiches, this is the perfect place for drinks and is family-friendly. If you're ever on our Locks Cruise – you'll be able to see them from our boats!
The last week of August, come try our cocktail, Whiskey Sunset, using their very own Rye Whiskey.