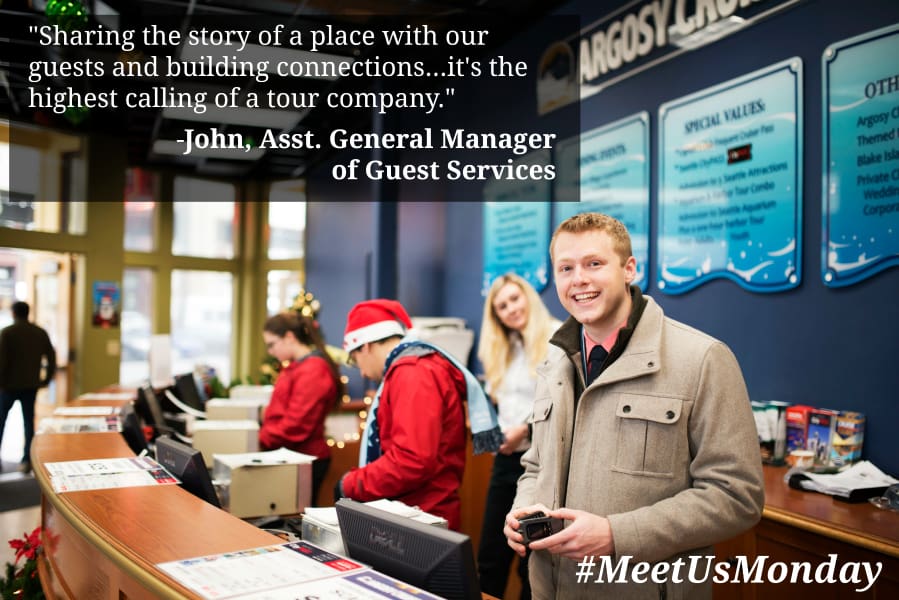 Argosy Cruises Team Member since: 2014
Current Department: Guest Services
Hometown: Three Rivers, Michigan
We've featured John before on #MeetUsMonday as a part of a post on a few of our Guest Services Leads and Trainers, but since then he has become the Assistant General Manager of his department, so we definitely needed to talk to him again.
John started as one of Argosy's Guest Services representatives in 2014. Hired first as a Trainer of incoming Guest Services representatives and then as one of our Guest Services Leads, John oversaw many of the on-the-ground managerial tasks at Argosy's locations. His ability to blend the worlds of front-line customer service, staff training and leadership made him a great fit for the new Assistant General Manager position that opened up this year.
His Midwestern charm and humble-yet-confident nature have made him an essential part of the Guest Services Department, and his ongoing leadership-by-example has itself led him to great things during his time with us. John also uses his outward hospitality and engagement skills with guests and applies it inward with his staff and colleagues, one Argosy's guiding principles. For these reasons and more, we're pleased to be able to share more of John's story with you this week.
************
What other Argosy department could you see yourself in?
I would enjoy spending some time in our Marketing Department. It's what I'm working on getting my degree in, and in the future I'd love to run my own marketing business. It's the backbone of any company, there's involvement in customer service and the culture of the company outward to customers -- I enjoy all those aspects. In a less office-oriented capacity, however, I think bartending on the boats would be super fun.
What is your favorite cruise that Argosy offers?
Christmas is already my favorite time of the year, so of course my favorite cruise that Argosy does is the Christmas Ship Festival. Bringing the Christmas Ship with her lights and choirs all over the city that I have such a passion for makes this time of year even more amazing.
What do you like to do in town when you're not working?
There's a local pub that I enjoy playing billiards at when I have some downtime. If I have free weekend, however, I really enjoy camping. I don't have one specific area of Washington that I like to explore, as I still feel pretty new here, but a recent hike up to Lake Serene was a big favorite. To hike 5,000 feet and find a lake up in the air, as it were, is breathtaking. I've also been mountain biking a couple times, and really enjoyed it.
What does it mean to Guest Services representatives to be "Seattle ambassadors?"
I've only been in the Pacific Northwest for two-and-a-half years, but this part of the country is so beautiful and amazing that I've really developed a passion for it, and sharing it with others. Being a part of the face of a company dedicated to sharing these wonders is a gift. When I was on the docks or in the ticketing areas I was able to share that passion personally with our guests. Now as Assistant General Manager of the department I am still able to do that to support my team. I have the opportunity to guide that philosophy throughout the entire department. It is the mission of the company to "discover and celebrate the beauty, traditions and history of the Pacific Northwest," and it's a great feeling to work in a place whose mission aligns with my own.
What is your favorite Seattle Waterfront stop, besides us?
Piroshky Piroshky in the Pike Place Market is the best. My family heritage is Polish, and although "piroshky" is a Russian term and dish they are similar to pierogis which are dumplings originally from Eastern Europe. They are all delicious, though the meat and cheese variety is my favorite.
What makes Argosy such a unique place to work?
The Pacific Northwest is probably the coolest place in America. This place, Argosy Cruises, and what we do for our guests here, does the best job of sharing the story and the history of our area. Our guests get some amazing views of the city and the area while they're with us, and they leave with stories, new knowledge and a connection to this place. This is the highest calling of a tour company, and we do it very well here at Argosy Cruises.