Your guide in and around our Locks Cruise! Go out and explore the surrounding neighborhoods and hot spots.
---
A few places to eat, drink and sightsee in Seattle around our Locks Cruise route!
Between our two sightseeing tours, our Locks Cruise is a unique one! Not only do we cover multiple neighborhoods of Seattle, but it's two hours, which means you get double the views and fun facts. It's basically an extended Harbor Cruise. Other than being one of our best value cruises, our Locks Cruise is a one-way trip, meaning you start and end in a different location.
The two routes for the Locks starts at Pier 54, on the Seattle Waterfront and ends at AGC Marina in South Lake Union, the second route is the same but flipped. The beauty in a one-way trip is being able to find new spots or explore new areas. No need to let the journey end! To help figuring out the unknown, in this blog post we have compiled a few hot spots around both Pier 54 and AGC Marina. Below you'll find somewhere to eat, to drink, or to further sightsee.
AGC Marina – South Lake Union Neighborhood
Somewhere to eat - Stone Korean Restaurant
The Locks Cruise is a two hour trip, so thinking on whether you're going to eat before, during or after is important! Our boats have a yummy selection of snacks and quick foods like wraps and sandwiches to purchase on board, but if you're looking for more no worries. Close by is Stone Korean Restaurant, offering tasty and authentic Korean food! The vibe is casual, chill and kid friendly. They have multiple locations if you aren't around the Seattle area, but be sure to stop by after our cruise. Come by for their signature chicken wings, bibimbap, bulgogi and customer service.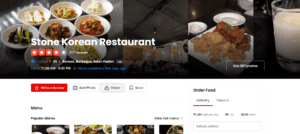 Somewhere to drink - Art Marble 21
Looking to keep the party going after the Locks Cruise? Head to Art Marble 21! This bar is perfect for groups of all sizes and the perfect spot for casual drinks. With plenty pool tables and TVs to go around, there is not way you wouldn't find a table (unless you come here on a Friday/Saturday night). Opening a bit later at 3pm, this is a convenient spot to head to right after our 12:45 PM sailing, as you arrive to SLU at 2:45 you have exactly the right amount of time to walk over for opening! Mon – Fri their Happy Hour starts at 3 😊
View this post on Instagram
Somewhere to sightsee - MOHAI
Looking to continue the learning and sightseeing? The Museum of History and Industry will be hard to miss as you walk towards the Amazon Spheres. This beautiful blue and white building holds plenty exhibits and collections of research. It's hard to describe all that is inside because there is SO MUCH. There is plenty enough inside to continue the exploring and to keep the kids occupied. Check it out!
View this post on Instagram
Pier 54/55 – Seattle Waterfront
Somewhere to eat - The Fisherman's Restaurant Seattle
Now with plenty of options and seafood on the waterfront, I can confirm that the Fisherman's Restaurant is a great option for sit-down food with the family or with friends. Located just two piers down from us and in the far back of Miner's Landing, yummy food is ahead. Such a great place to grab lunch or dinner before or after your Locks Cruise sailing. Make sure to ask for their delicious sourdough bread and if you love crab, I highly recommend their crab sandwich.
View this post on Instagram
Somewhere to drink - Elliot's Oyster House
Now don't get me wrong, Elliot's has great food, but boy is this place perfect for classy and fun afternoon/evening drinks! The inside interior is amazing, but if you catch this a reservation on a sunny day, definitely ask to sit outside. Who doesn't love a view of the water? Their cocktails taste just as good as they look (I recommend the Golden Hour cocktail). Don't forget to order some fresh oysters and delicious appetizers. Another recommendation, try their spicy fried shrimp!
View this post on Instagram
Somewhere to sightsee - Miner's Landing
There is SO MUCH to do on the waterfront, but a must see is Pier 57's Miners Landing. This area is a one stop shop with plenty of places to eat, hangout, and sightsee. Hop on Seattle's Great Wheel (you have to do it at least once in your life) or bring the little ones inside to play arcade games or ride the carousel. The fun definitely does not stop after us!
View this post on Instagram
What makes one-way trips easier is having a bit of a plan and I hope providing the above options helps in your exploration! The Locks Cruise can be the beginning, middle, or end of your plans for the day. If you visit any of the above places, let us know. Use our hashtag #YourFriendWithABoat on any photos or just tag Argosy Cruises on the social platform of your choice. See you aboard!