It's that time of the year...
Bring out the comfy blankets, light your favorite candle, and change into the comfy sweats - that's right it's cozy season! Fall time is Seattle is one so many people look forward to, and I can't blame them. Everything about autumn in Seattle points to beautiful changing leaves, more of a reason to run out to get more warm coffee, and finally getting to wear your favorite, flannel, sweatshirt, and socks (all in one outfit 😎). Yes, temperatures may be a lot cooler and rain is more present, but the Fall season brings on a whole new set of things to love and admire. To help, we've named a few cozy Seattle things to go do this month!
1) Go out for a hot bowl of soup (specifically chowder) from around the city
One very important factor to feeling cozy is warmth – which leads to our first way of staying cozy in Seattle this fall, and that is enjoying a bowl of a Seattle classic, clam chowder! We have so many well known seafood restaurants that serve a delicious cup. Places like Ivar's Acres of Clams, Pike Place Chowder, or Duke's Seafood & Chowder are a few places around us that serve some tasty chowder.
View this post on Instagram
2) Candle - making
Such a simple way of adding coziness to your day is lighting a candle (scent of your choice) in a room your in! During the fall/winter season, it gets darker much earlier, so adding an extra brightness will always help. To take it a step further, a perfect cozy activity is going candle making. One place in particular called Elm Candle Bar has a whole walk-in set up for you and some friends to create your dream scent.
View this post on Instagram
3) Listening to/enjoying the rain
The rain is nothing new to anyone living in Seattle – and one pro of it is how much cozier it can make your day feel! A rainy day can naturally bring you in a more meditative presence and feel more relaxed. Embracing the rain means not being upset that it's there, but finding how to work with it and around it! Finding indoor activities, staying in, or going for walk on a lighter sprinkle day works. The rain makes the air feel that much fresher and crisper!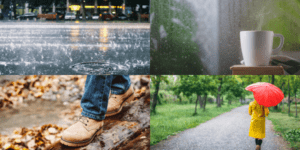 4) Coffee run to your favorite café
Something about visiting a coffee shop on an autumn day just gives cozier vibes. Being in Seattle, there is an endless amount of cafes to try and visit – ones with warmer aesthetics than others. Grab a hot latte (or iced for the strictly iced coffee people) and enjoy sitting down, reading a book, or people watching. A few recommendations? Storyville Coffee Seattle, Anchorhead Coffee, or if you're feeling particularly like you want to sightsee – The First Starbucks at Pike Place Market.
View this post on Instagram