5 Holiday Events in Seattle You Don't Want to Miss! 
There's many reasons to looking forward to the holiday season - gifts, the lights, the decorations, and basically every holiday event centered around it! Today we've gathered five events (most of them free) to bring your family, friends, and loved ones to. Not only do these events add to the magic of the holiday spirit, but they are also put on by the community looking to bring that joy to the neighborhood. So enough rambling, here are 5 holiday events in Seattle we think you must go to!
When: December 10 from 4:30 pm to 7:30 pm
Price: FREE
Yes, it's as magical as it sounds. Head to Greenlake Park and witness candles galore lighting up the paved trail around the lake itself. Neighbors and businesses around come together to help bring some warmth and brightness to one of the darkest months of the year. Go on an evening stroll as you see a lit path and witness hot air balloons being blown up right in front of your eyes. There will be complimentary refreshments and live holiday music to top it off!
When: Now through January 1st, 2023
Price: Is a restaurant and will probably need to purchase food/drink to sit down and really spend time inside
Not too far from Greenlake is Shelter Lounge, a restaurant right outside the path! For the past three years, they have created a holiday wonderland they like to call "Tinsel Town". Now this isn't just some lights and snowflakes hanging about, they completely transform their place to look like Christmas blew up inside. These decorations include thousands of lights, three miles of garland (approximately how long Greenlake is) and many candy canes/inflatables. This is an immersive experience that is kid-friendly where children under 10 receive free hot cocoa. So sit back, order some delicious food and snap some Instagram-worthy pics!
View this post on Instagram
When: December 9 from 8 pm to 9:30 pm
Price: FREE
Not to toot our own horn, but who wouldn't want to see a twinkling boat parade? For the last seven years we have gathered Seattle boaters alike to join us in South Lake Union and parade down the Fremont Cut behind our Christmas Ship™! Those who register their vessel decorate it to their liking and the onshore crowd gets to vote for who they think was best in show. If you're not on the 21+ Follow Boat or Christmas Ship™ yourself, we provide a free Onshore Viewing Party with a perfect view of the parade. We'll have the Born n' Braised Filipino food truck present, Chayen Coffee Trailer providing warm beverages for purchase, and Warm 106.9 to keep the party lively!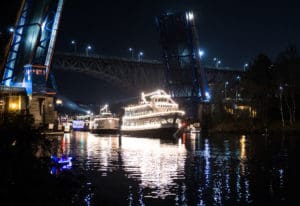 When: Now through January 1, 2023! Sun - Thurs: 9 am to 9 pm or Fri & Sat: 9 am to 11 pm
Price: FREE
Just as if Christmas couldn't get any more sweeter! All the holiday treats can't beat the amount of gingerbread, icing, and candy used for this year's Gingerbread Village. Come by the Sheraton Grand Seattle hotel downtown and gaze at amazing creations done by a variety of artists. This year's theme was "Buzzing Back" which is a riff off of the film called Buzz Lightyear, the children's movie about the well known space toy from the Toy Story series. Although this is open to the public, they do encourage donations, which is a way that you can vote for who your favorite piece was! All proceeds go to Juvenile Diabetes Research Foundation Northwest Chapter. Do you think you could build a massive gingerbread house?
View this post on Instagram
When: December 10 from 4 to 7 pm
Price: FREE
Now we know this isn't an event in Seattle, but we want to show some love to the Eastside! Plus, the more events you know about the merrier. Taking place at Juanita Beach Park, come by and see the winter wonderland of lights created by their community. Take part in the many winter festivities they have set up and stroll through the park as you enjoy the twinkling set up. There will be refreshments, as well as a bonfire to stay warm by, and musical performances. One being our very own Christmas Ship™, which will be sailing by the shore as our onboard choir sings to the audience.