A Christmas (Ship™) Miracle!
We are two weeks into January of 2023 and although Christmas Ship™ is officially over for the season, we'd love to talk a little bit more on one specific aspect of the festival and that is giving back. While families and friends come together during the holidays, making plans, and booking tickets to our Christmas Ship™, what many might not know is that each ticket is contributing to a bigger cause and that is supporting The Fund For Those In Need. The Fund is a non-profit that supports many local organizations throughout the Puget Sound area providing programs, assistance, and both emotional/educational support for various needs.
To give context, since 1996, Argosy Cruises has partnered with The Seattle Times in helping raise money every year for The Fund by allocating a portion of ticket and beverage sales. This year we decided to launch our new Light Up The Holidays donation initiative where guests can choose to make a more direct impact by contributing a more intentional amount of their choice through our online store or could round up their beverage/gift shop purchases during sailings to the next dollar.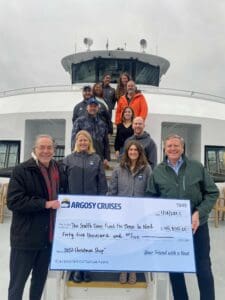 Last year in 2021 we donated a whopping $41,023, which was a new record high. In our most recent year of 2022, we decided to give ourselves a larger goal to reach of $45,000 and we are happy to announce that our new record high goal has been MET! After 24 years of strong partnership, Argosy Cruises will be giving President of the Seattle Times, Alan Fisco, a new record breaking check of $45,000! This brings our donation total throughout the years to a sum of $746,712! We are so excited to present this check and show support to the Puget Sound Community.
Make an impact year-round!
Giving is not only for the holiday season, donations can be made throughout the year. Please feel free to contribute and help The Fund For Those In Need reach their goal of $3 million with 100% of donations being distributed throughout many local communities.
Below are three of thirteen agencies being supported:
Big Brothers, Big Sisters: "establishes and supports 1-to-1 mentoring relationships that positively impacts children and families."
Wellspring Family Services: "prevents and ends family homelessness in our community by helping people maintain housing and job stability heal from trauma."
Childhaven: "partners with parents and community to strengthen families, prevent childhood trauma and its damaging effects, and prepare children for a lifetime of well-being."