Due to the evolving uncertainty of COVID-19, we have made the difficult decision to suspend all private charters through spring 2021. 
Start planning your next cruise – now booking for spring 2021 and on. Request a Quote.
---
Certain times of the year are simply magical on the waters of Seattle.
A holiday party during the Argosy Cruises Christmas Ship™ Festival will leave your guests delighted and mesmerized by the shimmering views of a holiday-lit winter sky.
What is the Christmas Ship™ Festival? 
It is a ship-to-shore holiday celebration that has been a Northwest tradition since 1949. The Spirit of Seattle, the Official Christmas Ship™, is decorated with hundreds of lights and sails to different Puget Sound waterfront communities – around 65 in all. Choirs on board the Christmas Ship™ perform to guests aboard as well as to our Follow Boats and to communities gathered on shore.
Select a night when the Christmas Ship™ sets sail!  
View the Christmas Ship™ Schedule
Join the Christmas Ship™ Festival for an evening and follow the Christmas Ship™ as she travels to various waterfront communities. Argosy vessels are fully decorated and can accommodate  up to 350 guests. From on board your vessel, you'll be treated to spectacular views of the official Christmas Ship™ as well as choir performances – as broadcast from the Christmas Ship™ – at each community stop.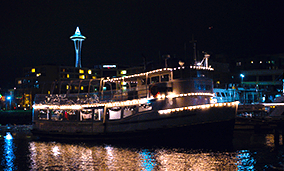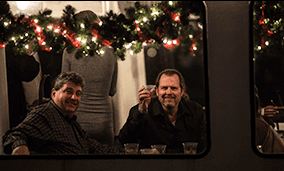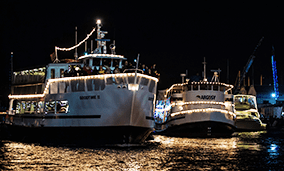 Charter Menu Options
Planning your menu for your private group event is a snap: our Sales Team is ready with plenty of options from our three preferred caterers who work with us on a regular basis. You can also choose to bring on your own!
Inquire Now

BAR PACKAGE OPTIONS
For your onboard bar service, your guests are in excellent hands with our bartending crew members and our selection of locally-made beers, wines, and spirits. Our Sales Team has many different packages available, and the experience to help you choose the best one for your group.
Inquire Now
Share your photos with us by tagging #ArgosyCruises