Holiday Parties
The Argosy Cruises Christmas Ship™ Festival is a ship-to-shore holiday celebration that has been a Northwest tradition since 1949. The Spirit of Seattle, the official Christmas Ship™, is decorated with hundreds of lights and sails to different Puget Sound waterfront communities. Choirs aboard the Christmas Ship™ perform to guests, follow boats, and spectators gathered onshore.
Join the Christmas Ship™ Festival on a fully-decorated private charter and follow the Spirit of Seattle as she travels and performs to waterfront communities.
To request a quote, select your preferred date via the Event Calendar and submit a Private Charter Inquiry Request. Please note, private charters cannot be booked less than two weeks in advance.
---
Standard Package
A holiday party during the Christmas Ship™ Festival will leave your guests delighted and mesmerized by the shimmering views of a holiday-lit winter sky. The Standard Package includes:
Three hours of cruising
Mt. Si drink package (non-alcoholic beverages)
Pre-designed event layout: Choice of seated or standing reception
Departs from Seattle Central Waterfront or AGC Marina on Lake Union
Standard Package + Entertainment Upgrade
Enjoy all the amenities of the Standard Package plus the addition of a DJ or photo booth
*Add-Ons*
Choose one or more add-ons to customize your holiday charter
Extra time
Custom layout
Docking outside of Seattle Central Waterfront or AGC Marina
Food – Choose from our three preferred caterers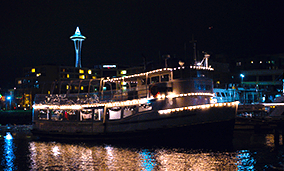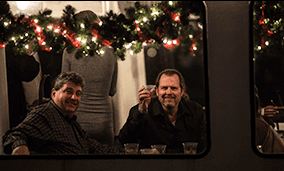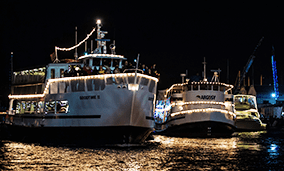 ---
COVID-19 Safety Measures. Learn how we're keeping our employees and guests safe.
Trip Protection. As you plan your trip, we are pleased to offer Trip Protection on all experiences in 2021. Trip Protection offers peace of mind at a time that flexibility is more important than ever.