Christmas Ship™ - Behind The Scenes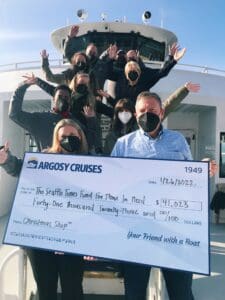 The holiday season is long awaited for many reasons - family get togethers, presents, festive activities, etc. Here at Argosy Cruises we add to the spirit by hosting our annual Christmas Ship™ Festival where hot cocoa and Santa meet the water.
Not only is this time of year about getting together, but also giving back. Since 1996, Argosy has partnered with the Seattle Times every year to help raise money for their charity Fund for those in Need. by allocating a portion of our ticket and beverage sales. This non- profit accepts donations large and small that then distributes these gifts to many organizations that help many situations and lives.
After 23 years of partnership, we are more than happy to announce that this year we are giving , Alan Fisco, president of Seattle Times a record breaking check of  $41,023!
After many amazing years with this strong partnership, Argosy has donated a total of $701,712. We look forward to this number growing into the future.
Giving is year round!
Helping isn't limited to the holiday season! The Fund for those in Need accepts donations year -round. You can help them achieve their goal of reaching $3 million with 100% of donations distributed throughout the fund. These agencies are all local and your gifts directly help the community!
Below are three of the thirteen agencies being supported:
ACRS (Asian Counseling and Referral Services): "provides an array of support and behavioral health services to Asian and Pacific Islander populations in a multicultural, multilingual setting."
Kindering Center:  "A birth-to-age-three early intervention program providing individualized, family-centered services for children who are disabled, medically fragile or vulnerable because of abuse or neglect."
Lifewire: "A mission is to end domestic violence by changing individual, institutional, and societal beliefs, attitudes, and behaviors that perpetuate it."