One of our favorite times of the year is here and there's no better way to fill your December calendar than with these Christmas Ship™ Festival events. We've compiled a short list of our top five favorite destinations to watch the ultimate holiday show of the season. Take note that they are in no particular order--we love them all equally.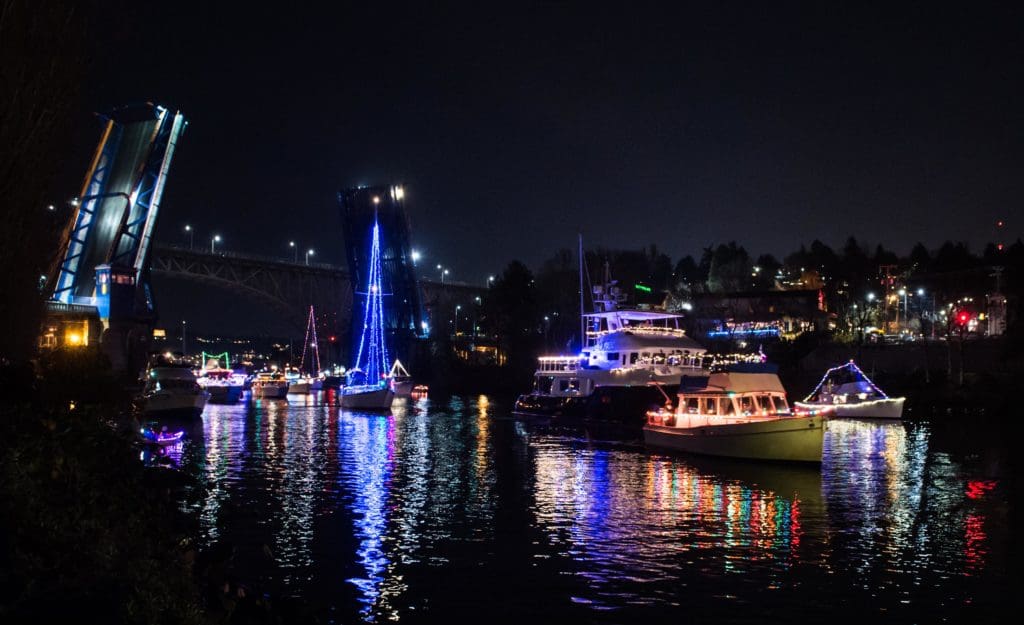 Join Argosy Cruises for the 3rd annual Parade of Boats official viewing party onshore at Evanston Plaza. We will be alongside King5 and Warm 106.9's Allan and Ashley from their hit morning show, Mornings with Allan and Ashley, to admire the largest holiday flotilla around. Decorated boats from all over the region will convene and promenade around Lake Union, then travel westward through the Fremont Cut. You'll be able to hear the Dickens Carolers perform from aboard the official Christmas Ship™, enjoy the glittering lights of countless parade boats, and cast your vote for your favorite decorated. This is the perfect event for friends and family who want a front row seat to one of the most anticipated holiday events of the season. Plus, it's free of charge--we can't say no to that! Check out the event's official Facebook page for updates and details
And an even better way to enjoy the parade is to be in it! If you're that #FriendWithABoat, join in on the fun and register to be a part of the parade this year. Registration ends December 8th, so add your boat to the list before the holiday season sails away!
2. Redondo Beach | Wed. Dec. 6 @ 8:20 PM | Location: Redondo Beach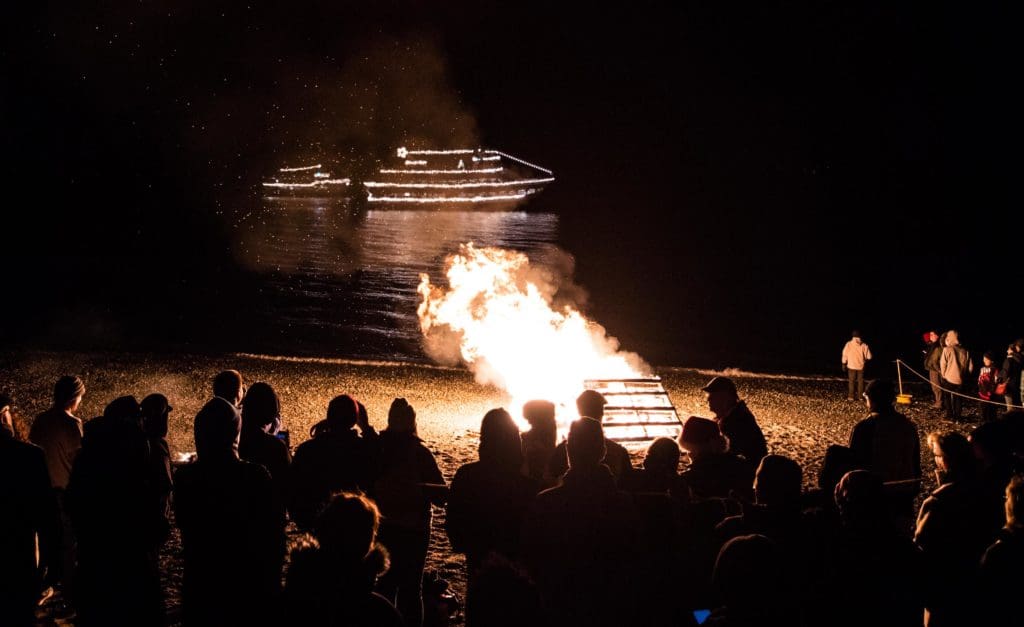 Redondo Beach is one of our favorite spots to watch the Christmas Ship™ light its way through the Puget Sound. Grab friends, family or loved ones and cozy up by the bonfire, the offshore performance begins at 8:20 PM. If you plan on making a night of it, we suggest visiting Salty's at Redondo Beach, which has prime views of the holiday performance on its North or South decks. The restaurant offers free parking, blankets, heat lamps, festive cocktails, and more! Check out their website for more details and reservations.
If you want to take part in the Christmas Ship™ tradition waterside, we still have tickets available for the Lead Boat. Santa Claus will be onboard for a special Christmas reading, a Ho, Ho, Ho contest and other holiday activities will be underway. Add a keepsake to your Christmas Ship™ experience by shopping our Holiday Gift Shop and enjoy a full-service bar with snacks available for purchase. Plus, holiday craft bags for kids!
3. Alki Beach Park | Sat. Dec. 9 @ 8:55 PM | Location: Alki Beach Park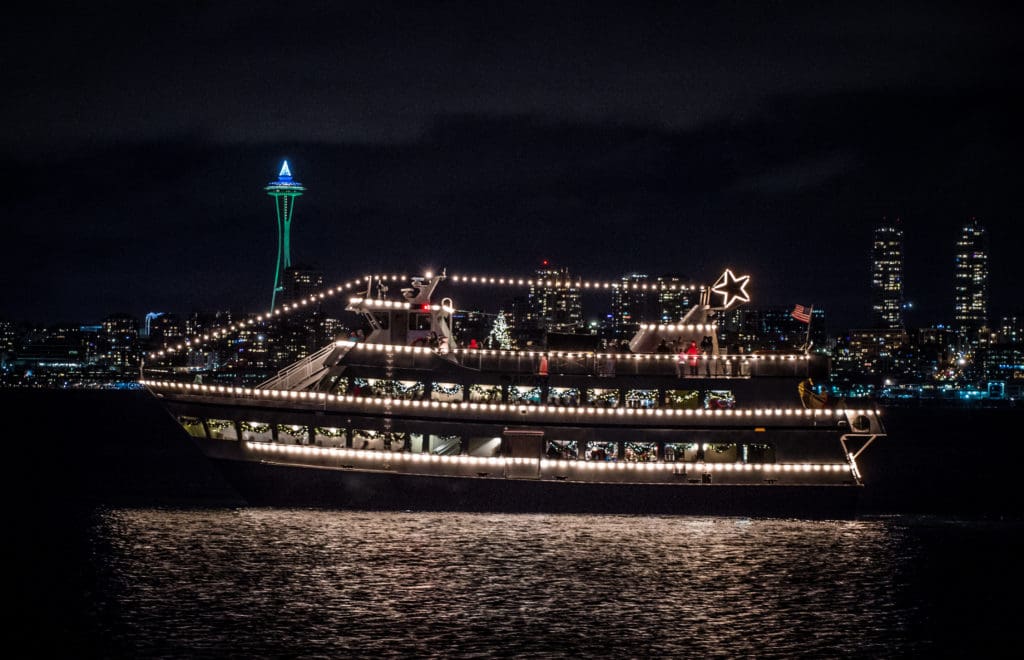 For our West Seattleites who want a piece of the holiday fun, Alki Beach Park is another beachfront location to view the Christmas Ship™ Festival that cannot be missed. Not only can you take in the spectacular sight of the Spirit of Seattle, you can enjoy the panoramic skyline from Queen Anne to the Kitsap Penisula all from the comfort of your sandy seat. Make sure you bring a blanket and bundle up next to the roaring bonfire to listen to the Dickens Carolers perform from onboard the Christmas Ship™. The West Seattle Blog highlights more spots to catch the Christmas Ship™ when it comes to town on December 9th, so be sure to check it out!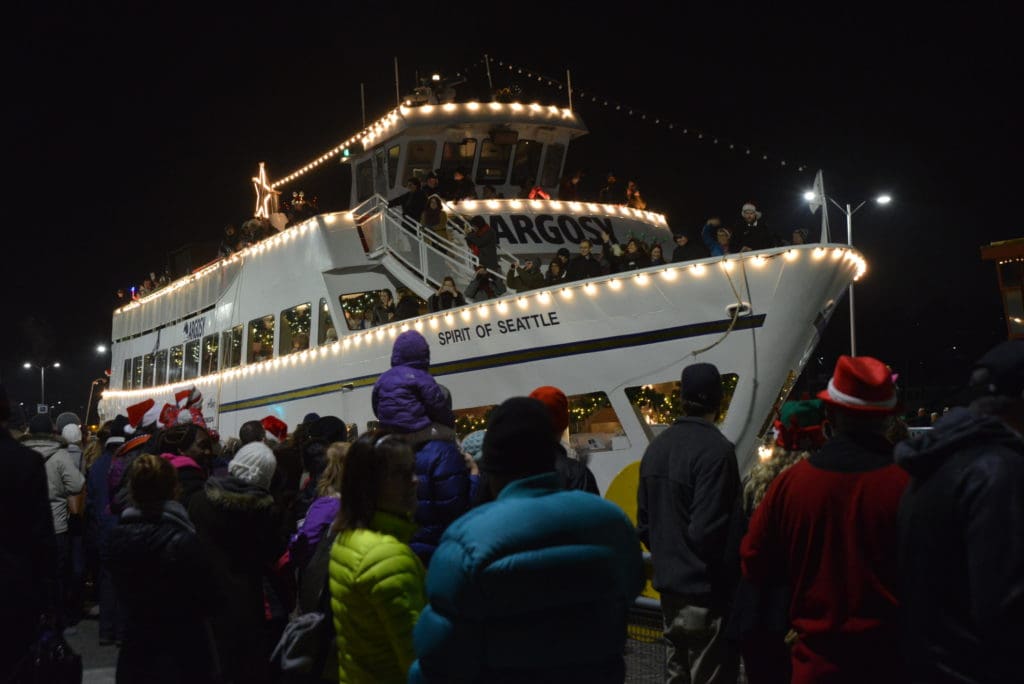 If you're looking for a more intimate Christmas Ship™ viewing, grab a front row seat at the Ballard (Hiram M. Chittenden) Locks. Not only will you take delight in the choral performance by the Emerald City Voices, you will also witness the Locks' spectacular transition from salt to fresh water. Now if that's not an added bonus, we don't know what is!
If you are interested in experiencing the Locks onboard a Christmas Ship™ Festival Follow boat, tickets are available for the 1st sailing on the Follow Boat: Goodtime II, which departs from the Shilshole Marina. Take boarding photos with Santa, shop our Holiday Gift shop, and enjoy a full-service bar with snacks as the 2-3 hour cruise follows the Spirit of Seattle to various waterfront locations. There will be kids holiday craft bags and a Christmas reading from Santa Claus. (Please note, while every effort will be made to have Santa Claus on board the FOLLOW boat, Santa's appearance is NOT guaranteed.)
5. Finale Night | Sat. Dec. 23 @ 8:45 PM | Location: Gas Works Park
Of course it goes without saying that the Finale Night at Gas Works Park is one of our top spots to catch the tail end of the Christmas Ship™ Festival, and it is only fitting to save the best for last. Perch yourself atop the grassy hills and take in the thousands of twinkling lights below. Or gather with friends and family by the bonfire and join in on the Christmas carols that will be broadcasted from the boat. With such a big area to view the festival, there's not a bad seat in the house and, trust us, the show will not disappoint!